Trimble UX5 HP Unmanned Aircraft System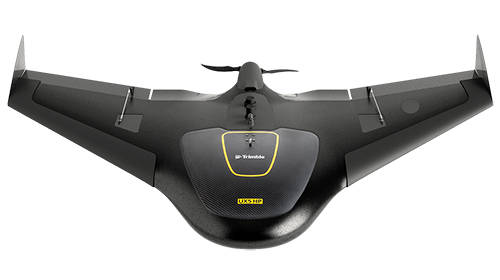 The Trimble UX5 HP is a professional aerial mapping system, designed to capture the highest image accuracy for survey applications. The features of the new UX5 High Precision will include an integrated Trimble GNSS receiver, a powerful new camera, and a selection of camera lenses for the ultimate in system flexibility. Users can now configure their system for high-precision or increased flight coverage based on project needs.


● Orthomosaics resolution down to 1 cm & 3D models with up to 1,000 pts/m2
● 36 MP, full frame sensor camera ensure better quality images in low light or high contrast situations, allowing in more light and less noise for a greater dynamic range .
● Flexibility to choose between a near infrared or RGB sensor system, and a selection of lenses.
● Capture the highest quality data in difficult conditions
● Survey quality accuracy without ground control
● Utilization of PPK GNSS technology to establish image location, ensures time savings in the field.
Trimble Access Aerial Imaging Application


The Trimble Access™ Aerial Imaging application loaded onto the Trimble Tablet Rugged PC operates the Trimble UX5 HP and is a single software tool for planning your aerial missions, performing pre-flight checks and monitoring your flights.
● Intuitive workflows ensure reliable results.
● Simple User Interface supports all of the functionality
● Conduct flights in a fully automated manner, from launch to landing
● No piloting skills required
● Built-in safety procedures ensure safe and successful launches each time
● Easily map corridors, import multiple map layers, fly irregular shaped areas and heights


Image Processing
The Trimble UX5 HP aerial image data can be processed into powerful deliverables with the Trimble Business Center (TBC) photogrammetry module. Specialized computer-vision algorithms produce very accurate results automatically, with minimal manual interaction. Provides a stable and reliable photogrammetric system delivering excellent results without requiring specialized photogrammetry knowledge or experience. Alternatively, Inpho UASMaster provides the power user or photogrammetrist with the right set of tools to use the full potential of aerial data.